For all who helped to make our BENEFIT DINNER a joyous celebration of achievements for Palestinian families, thank you. A few fast facts:
A record turn-out of 186 members of the Seraj family shared a delicious meal and enjoyed one another's company.

The Silent Auction, for community libraries, offered 136 items for $13,000.

The Raffle raised $2100, and one lucky benefactor won a professionally prepared Palestinian dinner for 6 in their home.

Dr. Estephan Salameh and Mr. Hamed Qawasmeh passionately described the situation in Palestine today.

And we honored the work and the grace of our recently decease co-chair, Rev. Cotton Fite, a blessing to all who knew him.
For those of you unable to attend, this Newsletter will recount some moments from our great evening at Chateau Ritz.
Click here to view the full Benefit Program Booklet (16 pages of great information regarding Seraj's library and community programs).
We enjoyed two marvelous videos: Click on the title to view.
Seraj Report 2017. A video by Laurie Salameh, Fida'a Ataya and Seraj volunteers in Palestine. The video captures many of the activities and spirit from the past year. (5 minutes).
A new, second video (2 thumbs up from Coffman & Cassel):
The Biblio Bus. A 2017 joint project of four Palestinian organizations, featuring Seraj Libraries and children, is captured in this seven minute video.
We heard from two Palestinians committed to justice for all.
Dr. Estephan Salameh Mr. Hamed Qawasmeh


From Dr. Estephan Salameh's comments: Seraj is such a simple idea and for 12 years now, we continue to be a relatively small organization, doing activities that have proven to produce tremendous impact. The libraries we establish with your support are not cemeteries of books, they have become centers of change providing the right environment for children, youth and young adults, particularly women and girls to become drivers of change in their own communities. There is a quote among librarians which has become a mantra for us in our office in Ramallah, something we repeat whenever we look for new partnerships or begin a new program. "Bad libraries build collections; good libraries build services; great libraries build communities."
Because we stay committed to the communities in which we open our libraries, we can build programs and activities that meet the differing and specific needs of each community, allowing them opportunities to transform themselves as individuals and as a whole. For example, we work in a religiously conservative village where women had no public space to meet. During our grand opening of that particular library, only three attendees of the hundreds who came were women. Shortly after that the library was being used as a place for women to meet and gather during the day. Six years later, women are now running this library hand in hand with men. Recently, they asked for funding for a dabke dance trainer for the children in the village; we supported this project while encouraging them to allow both boys and girls to dance train together. It was the first time in the history of the village when this was allowed to happen.
Read the whole, including comments about his relationship with Cotton, here.
Remembering & Honoring Rev. Cotton Fite

Many of you know of the untimely death of our Co-chair, Cotton Fite. in August. We had commissioned a Palestinian embroidery to present to him as his retirement from the Board approached, but with his unexpected passing, we presented it at the Benefit to his wife, Diane. As Cotton would have, we pray for blessings of peace.

The embroidery was done by Saddiyah Moqbel, of Biet Ummer (near Hebron). Here is what she wrote on hearing of Cotten's death:
It is so hard to know of his death. It breaks our hearts. Seraj and all of his friends will miss him so much. We remember his first visit to us. His beautiful smile, his encouragement and support. He owned a beautiful heart. May he rest in peace. I'm really sad. I will be happy to complete the wall hanging and send it to you to introduce it from us to his wife from Seraj as a gift from us. Cotton deserves that and we will be happy if they accept it as a gift for his soul.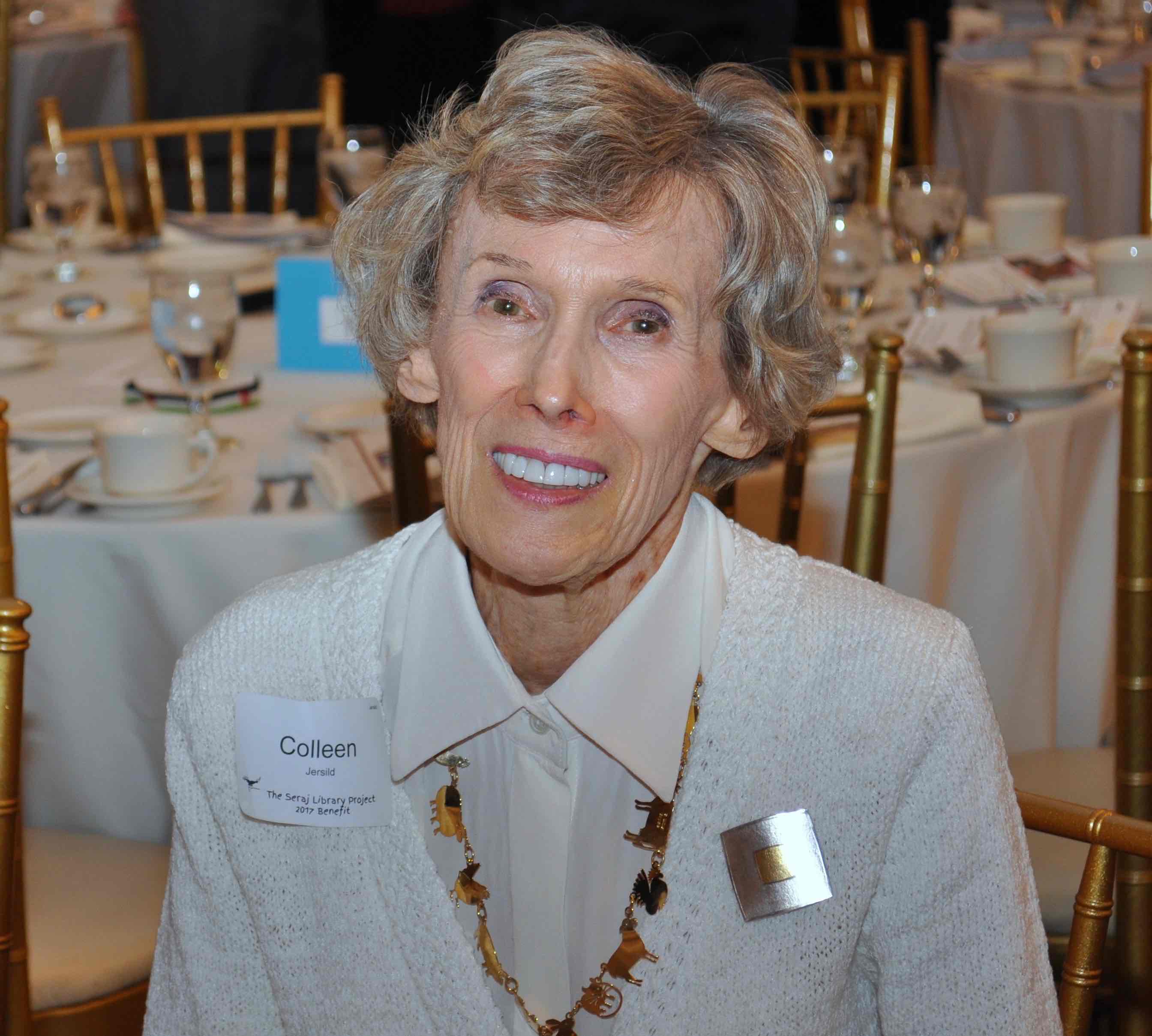 The Seraj family honored Colleen Jersild for her years of service planning, organizing and managing the Seraj Benefit's Silent Auction.
More photos from the evening. (By Patience Kramer, Seraj volunteer)
Let us know your questions or concerns, or how we can help you. Contact Us.
The Seraj Library Project vision:
"Access to a community library for every Palestinian child and family."