2022 Seraj Trip to Palestine
Daily Schedule
October 16 – October 26, 2022
The Seraj Tour will provide remarkable experiences.
It will be unique to Seraj and its many resources.
OCTOBER 16, Arrival
Travel to Palestine. Arrive in Tel Aviv, travel to Jerusalem for group welcome dinner. Overnight in Jerusalem.
JERUSALEM RAMALLAH BIRZEIT
Day 2, MONDAY, OCTOBER 17.
Today we welcome you to Palestine and introduce you to the political and cultural context here, as well as give you an overview of Seraj's work. We will meet with the United Nations Office for the Coordination of Humanitarian Affairs in Jerusalem, then travel to Ramallah to meet with the Seraj team and explore the city, and enjoy an evening party with live music in Seraj's Library and Cultural Center in Birzeit with Seraj's Palestine board and staff.
Day 3, TUESDAY, OCTOBER 18.
We will begin today diving deep into Palestine's history by visiting the Yasser Arafat Museum in Ramallah. Afterwards, we will visit Seraj's Library and National Storytelling Center in the village of Kufor Aqab near Jerusalem. You will have the chance to participate in a celebration of the storytelling center as we honor Rev. Cotton Fite in whose memory the funds were raised. We will also hear from key partner organizations, children and mothers from the village and enjoy traditional storytelling performances. This will be a unique opportunity to participate in our activities alongside the local community. We will end the day at a local upscale restaurant with a talk from an influential activist in the cultural world.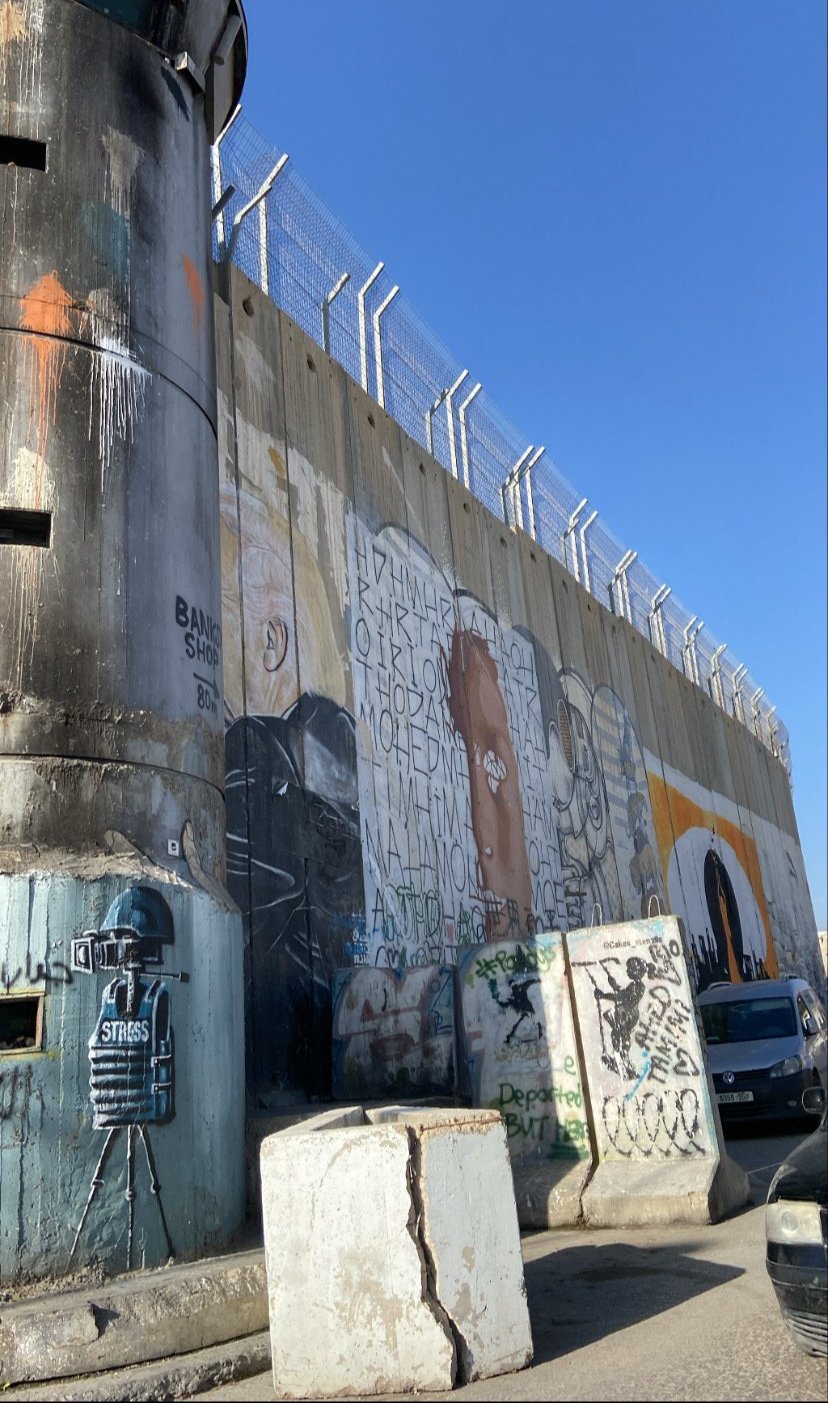 Day 4, WEDNESDAY, OCTOBER 19
We will spend today in Bethlehem, first touring Manger Square and the traditional birthplace of Jesus, the Nativity Church. We will explore the old city streets and shops and have a traditional Palestinian lunch in a famous old restaurant. We will then visit Seraj's library in the Aida refugee camp, where we will hear from cultural activists and artists, who work to create a more beautiful world in spite of severe occupation restrictions. We will take a break to enjoy Palestinian nature at a local winery, and end the day with dinner at a restaurant in the hills overlooking Bethlehem while hearing from a prominent religious leader on his work and theological understanding of the current political situation.
Day 5, THURSDAY, OCTOBER 20
Today we will explore parts of Palestine rarely seen on group tours. We will travel to the Jordan Valley where we will visit Seraj's library in the rural community of Jiftlek. We will meet with the woman overseeing this library and hear about her activism and artwork. We then have the opportunity to visit local farmers and sample their crops. We will also hear from experts who will give an overview of the political situation in the Jordan Valley and the precariousness of Area C.
Following this intense morning, we will head to the old city of Nablus where we will have free time to tour the shops and enjoy the sights and sounds of this unique city. We will be hosted to a traditional Palestinian meal by a women's group inside the walls of Nablus.
On our way back to Ramallah, we will stop at Seraj's library in the city of Tubas where we will take part in a small activity.
JORDAN VALLEY
NABLUS
TUBAS
Day 6, FRIDAY, OCTOBER 21
Today will be a relaxing day as we will travel to the ancient city of Jericho where we can either hike or take the cable cars up the Mount of Temptation to visit the monastery at the top. We will visit Hisham's Palace, which has just been declared by UNESCO as having the largest mosaic in the world. From Jericho we will spend the afternoon at the Dead Sea, partaking in mud baths or floating in the sea. We will head back to Ramallah for a free evening.
Day 7, SUNDAY, OCTOBER 22
Today we journey to Jaffa, the port city on the Mediterranean Sea that is part of pre-1948 Palestine. Jaffa was the cultural and commerce capital of Palestine and its Palestinian population faces different challenges than those living in the West Bank. As we walk through this ancient port city, we will learn about its history, the thousands of refugees that fled here in 1948, and the current reality they are facing today. We will enjoy a beautiful seaside lunch and have some free-time to explore the city.
We will have dinner in the village of Jifna, home to Seraj's very first library, and hear from Estephan, Seraj's co-founder, as he shares his personal and family story, from Jaffa to Jerusalem to Jifna to Chicago and back to Jerusalem.
Day 8, SATURDAY, OCTOBER 23
Today we will put you to work! The olive harvest in Palestine is without a doubt the most important season of the year. Families return to their ancestral lands to collect olives that will either be pressed to make oil or to be pickled to enjoy alongside daily breakfast. We will have the chance to participate in this beautiful and ancient ritual with families in the village of Abu Falah. Following a morning of work and lunch on the land, we will visit Seraj's library in this community where we will ask any of our tour group participants to come with an activity prepared for the children of Abu Falah. Today will be extremely meaningful for both our tour group and our community members, as we develop a deeper understanding of each other's cultures.
Following a dinner in Ramallah during which we can share our reflections and insights on the day, we will hear from a Seraj board member about her important work here in Palestine.
Day 9, MONDAY, OCTOBER 24
We will spend our last day in the Ramallah area in the village of Birzeit, home to Seraj's newest library and cultural center. We will begin the day at the beautiful Palestinian Museum to enjoy their gardens and exhibition. We will then visit Birzeit University and engage with a few of Seraj's scholarship recipients. We will then have a traditional Palestinian lunch in the old city of Birzeit, and spend the afternoon at Seraj's center, meeting with students, participating in activities, and hearing from Seraj's board members and other prominent community members from the village of Birzeit. We will have a special closing celebration with the staff and board.
After today, you will have a deeper understanding and connection not only to Seraj and our work, but to Palestine as it was and as it is today.
Day 10, TUESDAY, OCTOBER 25
This morning we check out of the hotel in Ramallah and head to Jerusalem, where we will take a guided tour of the old city,
Day 11, WEDNESDAY, OCTOBER 26
Departure for home.
Or, for those who have registered, travel to Jordan & Petra.
Or, a post tour visit of your choice...
Farewell from your hosts.
Experience the world famous Palestinian hospitality. Join us! Sign up today!
Our Contact Information
*{{Organization Name}}*
*{{Organization Address}}*
*{{Organization Phone}}*
*{{Organization Website}}*
*{{Unsubscribe}}*