Grand Openings at TWO new Libraries
We can't imagine a better way to welcome spring to Palestine than to celebrate the grand openings of Seraj's 9th and 10th libraries!
Village Mayor & Estephan Salameh cutting the ribbon at the Abu Falah Library opening.
Wow, lots happening & much to report with Seraj just now! Our April/May Updates required two editions. #1 (if you missed it, click here!) is all about our Young Children's Festival and our newest Board appointments. Today, we share #2 the exciting Grand Openings of our two new libraries: Abu Falah and Tubas. Read and enjoy!
Laurie Salameh, joined by the Mayor's wife & Heads of Schools in Abu Falah.
The first event was in the rural village of Abu Falah (click here for map), which has a population of 5,000 people and is located about 16 miles north of Ramallah. This community has been an active and engaged partner from the first meeting, bringing ideas and expertise of their own to the partnership. The grand opening was celebrated with the village mayor, the principals of the local schools and many community members and their children. Several members of the community even donated their personal book collections to the library!
The library has a cozy space for small children and a special space for college students to meet and study with books specific to their universities and several computers. We provided them with a projector and space to screen films as well. The principal of the girls' school spoke about their 5 year strategy to invest in the village's youth, particularly in the girls, and said the library is the backbone of their plans.
We are thrilled to have such engaged partners and can't wait to see this
library and community grow!
We then celebrated with the municipality of Tubas (click here for map) as we launched their new library, and Seraj's 10th! This is Seraj's largest library and will serve the greatest number of people. Tubas is home to 26,000 people and is located between Nablus and the Jordan Valley.
Hundreds of people attended the grand opening, which was celebrated with the governor, the mayor, municipality council members and the local girls' school, who performed a beautiful song about Palestine.
The library is located next to the Tubas government's administrative building. With support from Seraj, the space was renovated from a dusty, decaying basement to a beautiful, safe space filled with colors and light and thousands of books for all ages.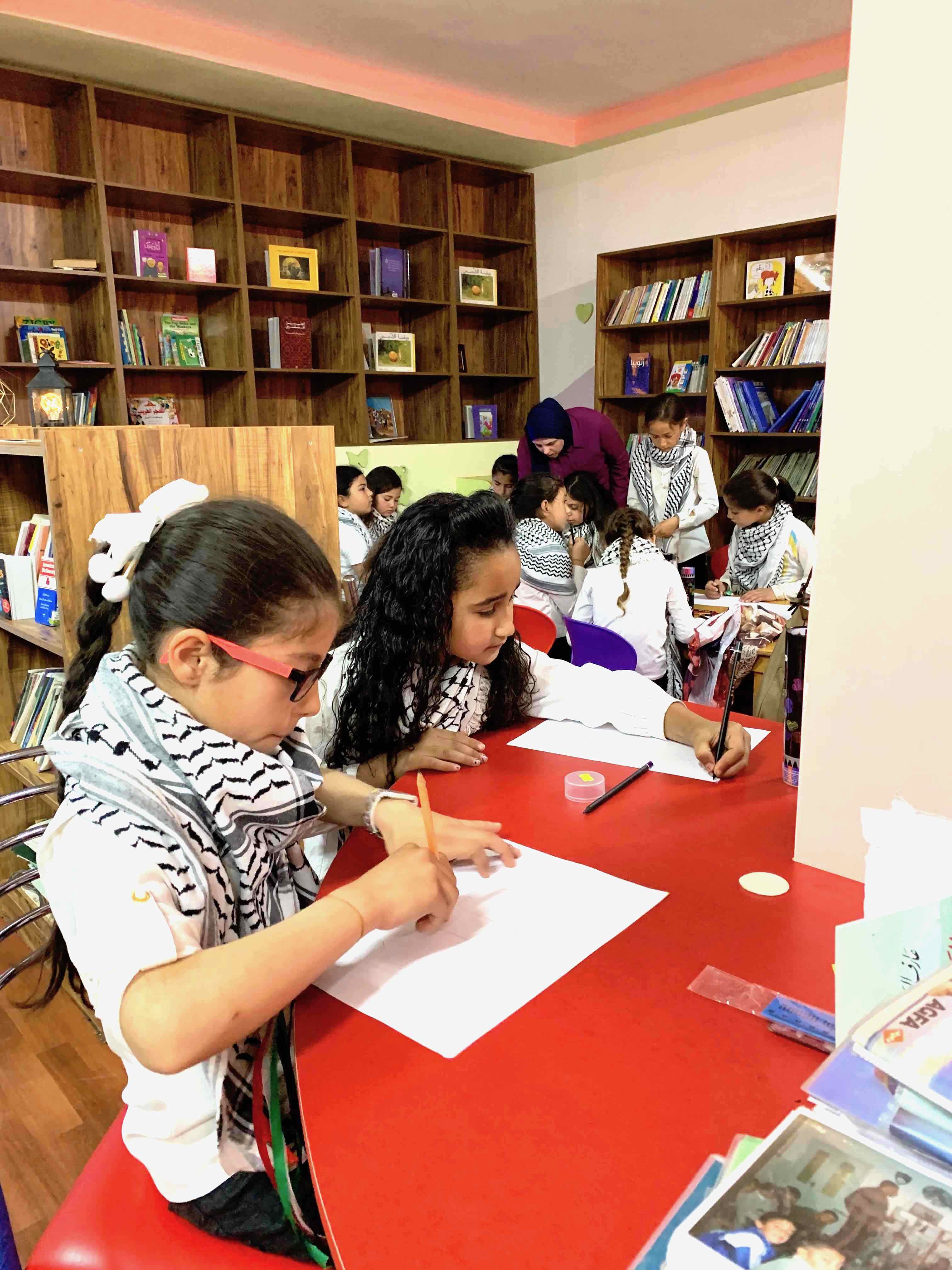 There is a section specifically for small children as well as a space to hold activities, with a large table and space for art supplies. There is a large section for college students and adults to read or to hold meetings.
Both communities celebrated their new libraries with much excitement and hope for the future. We look forward to meaningful and long-lasting relationships with the communities and can't wait to share the work with all of our friends and supporters, both in Palestine and in the US.
Report & photos by Laurie Salameh, Director, Seraj Palestine.
HOLD THE DATE for our annual Benefit - Sunday, October 6, 2019 - in Niles, IL.
Invite Seraj to make a presentation at your church, club, association...or, to a group of neighbors or friends in your home. We can talk about our libraries and programs, and share stories from the Occupation. We hope you will enjoy sharing our work with your friends.
Let us know your questions or concerns, or how we can help you. Contact Us.
Follow us:

The Seraj Library Project vision:
"Access to a community library for every Palestinian child and family."
This newsletter is crafted by the Seraj US Communications committee, Amelia Miller, chair.