Seraj Library Project has thrived with a tradition of deep personal investments.
Rev. Frank Baldwin shares an interview with Alice and Dale Valasakovic, long time Seraj supporters.
US Board member Nasser Nabhan has just published a children's book about Palestine. Congratulations Nasser!
Introducing the St Jerome Fund, a vehicle for memorial gifts and estate planning.
Young Seraj supporter, Sarah Abu Baker, shares a one minute video on the importance of Seraj.
Seraj article in Washington Report on Middle East Affairs.
Who makes up our Seraj community of supporters?
Meet long-time Seraj champions, Dale and Alice Valaskovic
Dale and Alice Valaskovic made their first contribution to Seraj in 2008. Since then, they have consistently and generously contributed to our mission. We thought it would be good to learn a bit about two of the people who make up our deep community of support.
As life-long teachers, Dale and Alice Valaskovic have been impressed by what Seraj libraries can do for kids. Their concern for children has led them to a deep commitment to the work of the Seraj Library Project in Palestine.
Though both retired from teaching some time ago, Alice and Dale retain their commitment to educating the next generation. Alice taught fifth grade for many years in Berwyn, IL while Dale taught high school in Chicago. Dale's teaching experience included ten years at Kennedy High School and 24 years teaching physical education and coaching at what was then the brand-new Benito Juarez High School on the city's near west side. Both found great satisfaction in their teaching experience.
Both Alice and Dale had formative experiences as young adults working in volunteer service projects. Alice served as a volunteer in the West Virginia Mountain Project in Colcord, WV, a project sponsored by the Presbyterian Board of National Missions. This project worked on housing issues and ran a youth summer camp for the young people in the Coal River Valley of West Virginia. Alice was so inspired that she returned to West Virginia to teach for several years after the completion of her volunteer service. Dale took a sabbatical year to study at McCormick Theological Seminary in Chicago and spent time working with Methodist and Presbyterian youth in Fulton, Missouri.
Dale and Alice have been active members and elders at the Good Shepherd Presbyterian Church on the southwest side of Chicago. Alice's connection there dates back to childhood. The church serves a diverse and changing neighborhood west of Midway Airport in Chicago. It is a multi-generational and multi-cultural congregation with a dynamic Hispanic pastor. The pastor recently led an outdoor memorial service for 250 people who gathered to remember a young man from the neighborhood who was the victim of violence. Dale has been the commissioner from Good Shepherd Church to the Presbytery of Chicago for many years. Alice recently served as the chair of the church's pastoral nominating committee which called the current pastor. Though Good Shepherd is a small congregation, it has a huge impact in its neighborhood and, as Dale and Alice noted, people's lives are changed as a result of its ministry!
About fifteen years ago Dale and Alice took part in a "language camp" sponsored by the Presbytery of Chicago at Stronghold Camp in Oregon, Illinois. One of the languages offered was Arabic and the teacher was Estephan Salameh! Though Arabic turned out to be a very difficult language to master, the bonds formed in the process were lasting and, somewhere in there, the seeds of what eventually became the Seraj Library Project were planted!
In 2007 Dale and Alice traveled to the Middle East with a traveling seminar led by Pauline Coffman (Seraj US board member) and sponsored by the Middle East Task Force of the Chicago Presbytery. While they were in Lebanon they visited the refugee camp that was the site of the Sabra and Satilla massacre. In Palestine's West Bank of Israel they visited Estephan and Laurie and the site of the first Seraj library. During their trip, connections with Palestinians became an eye-opening experience when they realized how much of the harsh realities of the occupation goes uncovered on the evening news.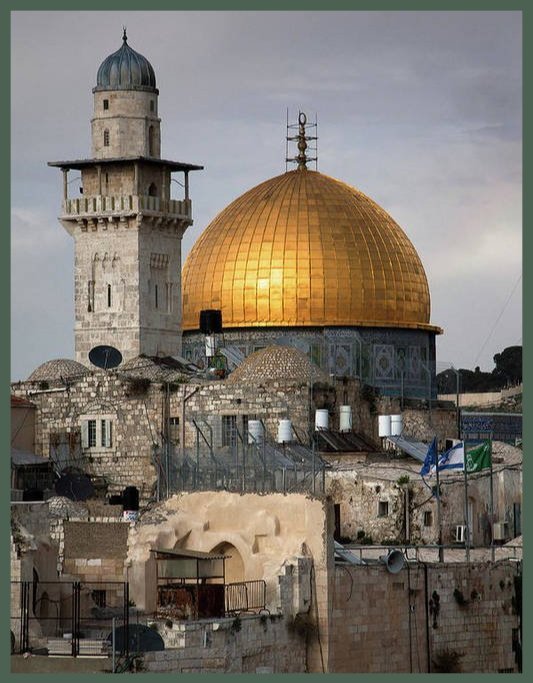 These experiences led to a deepening commitment to the Seraj Library Project which they have supported generously with annual contributions from the required minimum distribution proceeds of their retirement funds. Dale and Alice have been impressed by the way in which the libraries have become civic centers in their communities much like Chicago settlement houses became civic centers for Chicago neighborhoods in an earlier era. They are enthused about the storytelling center and its mission to preserve Palestinian culture and the reutilization of architecturally significant Palestinian buildings. They also very much support the development of the local board with Palestinian leadership in order to avoid the pitfalls of paternalistic oversight.
Dale and Alice have watched as Seraj grew from modest beginnings and international friendships and blossomed into a force for good. For them, it is a sign of hope in a corner of the world often characterized by impasse and discouragement. Their support has been a natural outgrowth of a life-long commitment to peace and justice and Christian service.
Interview & text by Frank Baldwin, January 2021
The Rev. Frank Baldwin is the former chaplain at the Presbyterian Home in Evanston, and member of the steering committee of the Middle East Task Force of Chicago Presbytery. His ties to Seraj also include his spouse, Barbara Ellson, who has supported our benefit's silent auction for many years.
A Children's Guide to Palestine, Nasser Nabhan, US Board Member, publishes a new children's book.
Cheryl Chapman, Children's Author, Retired Educator and Seraj Supporter, shares a review:
Yalla, Let Me Show You Palestine is the joyful story of a little boy from Palestine on his first day of American school. Written by early childhood educator, Nasser Nabhan, this book adds to the growing wealth of multi-cultural stories ending up in American children's hands. As a vehicle for peace and understanding, or a comforting playbook for a child's first day of school, Yalla, Let Me Show You Palestine shines.
Throughout this book, the reader is welcomed into the joys of Palestinian life - the clothing, the food, the cities, language, and creativity. And in the classroom, imagination reigns - a sand-table can become a beach in Gaza, the easel introduces the reader to Handala, a symbol of Palestinian resistance and hope in the face of oppression, and dancing creates friendships.
It is vitally important that Americans and other nations learn about Palestine, especially about the children of Palestine. The hope is to better the chance to build enough understanding and the international will to help peace to prevail there. As Yalla says, "We always have an open door."
Thank you, Nasser, for opening the doors of Palestine to so many, for feeding our hearts, through your story.
Nasser shares his inspiration for writing the book:
Growing up in the U.S., I never heard a positive word said about Palestinians in any major media outlet, nor was I ever exposed to a book that presented Palestinian culture in my school. When Palestinians were talked and written about publicly, it oftentimes veered towards dehumanization.
The characterizations were a distortion of a people and culture that I knew to be filled with love, kindness, generosity, and beauty. It also was not the dominant impression I garnered from the vast majority of Americans who showed curiosity, interest, and affection for the culture. I wrote the book so that Palestinian children do not grow up internalizing distorted images of themselves, but have outlets to see and share about their identity and culture through a supportive medium. I hope that the book will bring you joy, laughter, pride, and encourage others to be allies for Palestinian rights and further representation in literature of marginalized people.
If interested in sharing this book with the little people in your life,
here are a few options to purchase online:
Reminder to Amazon shoppers -
another way to support Seraj is through using Amazon Smile
whenever you order!
Introducing the St. Jerome Fund, a pathway for memorial gifts and estate planning.
As reported earlier, Seraj received a tremendous gift in early 2020 from the estate of a man who had a passion both for books and for peace in the Holy Land. Since then, one of our long-time supporters passed, and before she died, she asked any memorial gifts be given to Seraj Library Project. We are reminded, too, how the death of our former Board Chair, Cotton Fite, prompted a great outpouring of giving and has led, in a marvelous way, to the establishment of the Seraj Storytelling Center. These gifts prompted us to create a planned giving fund, which we are calling the St. Jerome Fund.
The choice of St. Jerome as this fund's name is not an especially religious one, although he is recognized by the Catholic Church as the patron saint of librarians (among others). Rather, for us, he reminds us of the importance of books and community. Saint Jerome was a man of faith and scholarship and had deep roots in Bethlehem.
All gifts to the St. Jerome Fund will, to the extent possible, be used in line with donors' requests. If the gifts are unrestricted, they will be used to further the work of Seraj in
Palestine - creating new libraries, buying books, or supporting the libraries' programs.
And, while we definitely want you to live long, happy and fruitful lives, please remember that much good can be done with the treasure that one inevitably leaves behind.
If you would like to discuss these matters, please contact Galen Burghardt, Development Chair here.
Enthusiasm for Seraj, prompted our 7th grade friend to make a video promoting Seraj Library Project.
Sarah Abu Baker is a Palestinian student newly living in Amman, Jordan. She is a fervent supporter of Seraj Library Project. Her mother was a founding Seraj Palestine board member.
As part of a school assignment, Sarah made this short video about why Seraj is important to her and asks for others to learn about and support Seraj. We love her enthusiasm and wisdom about the importance of supporting young Palestinian futures through "giving them a safe place to read."
Thank you, Sarah! Please watch her short video by clicking on the photo or link below.
Here's a Link to Sarah's one minute video: https://youtu.be/OYIysX6Hbl8
Be sure to turn on the closed captioning to catch all the words of wisdom she shares about the importance of Seraj in the lives of Palestinians.
Lighting Up Young Palestinian Lives with Books, a new article about Seraj in the WASHINGTON REPORT ON MIDDLE EAST AFFAIRS.
We are most honored to have a Special Report in the latest publication of Washington Report on Middle East Affairs. Article written by Seraj US Board Chair, John Cassel.
This newsletter was crafted by the Communications Committee.
Amelia Miller, Chair
Let us know your questions or concerns, or how we can help you.